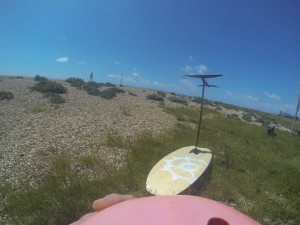 2nd time out on my Slingshot Alien Air with 10m Rally at Hayling.
Beautiful sunny day and solid 15 knots and due to build, so was likely to get choppy later. Tide was pretty low, but Hayling public beach is great for kite-foiling because it quickly gets deep enough even at low tide.
James went out first on his 9th outing with his Alien Air and was quickly motoring upwind towards West Beach
Remembering Slingshot's recent How To Foil video, I rigged a 10m Rally – about the normal sized and with plenty of depower and easily re-launchable.
I bolted the foil together and attached the foil at the back of the track to get used to the feel of the board and carried the board to the water with the the foil facing the wind.
Manoeuvring the board and foil into the water start position was much easier remembering to keep the nose into the wind, and gently pushing the foil up with a booted foot while leveraging the board with front Footstraps.
So I got up and slowly started towards, controlling power carefully. Several spills happened, whether falling off the back of the board as it reared up and into the wind or being  pulled over the front or right over the other side.
After a few hundred yards, I turned the board round in the water and headed in shore in the same pattern. On getting back to land, I walked back upwind: the inevitable "walk of shame".
Setting off from my launch spot again, was similar but the splashes and crashes became slightly less frequent, but ended in yet another walk up the beach.
Third time, started to stay on board for longer and headed out further, and ended up back where I started! Major breakthrough – holding position!
On the next run, I started getting lift between the chop, and stayed up a little. Back and forth from the beach, I gradually got the hang of the balance.
I came in a landed the kite, and adjusted the foil to be 3cm forwards, which gave loads of lift which had to be balanced with front foot pressure.  Eventually I was up on the foil for a few seconds – quiet and smooth.
Hope next session chop is less than 3 feet! Big floaty board recovers from porpoise nose-dives remarkably well.