3rd outing on Slingshot Alien Air at Hayling this evening.
Lovely and warm, light, evening session, blowing 16 knots initially, so rigged 10m Rally.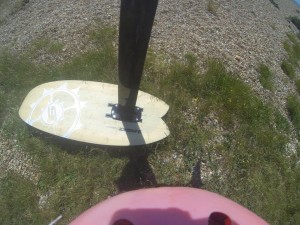 Put track 3 cm forwards again to give some lift, while remembering front foot pressure. This succeeded in stopping the board jumping up out of the water and throwing me off the back so often. Porpoising was much less extreme, and I started to get the most amazing feeling of controlling the lift.
Staying up wind on all but the 1st run when I dropped the kite and had a swim.
Starting to string together several seconds at a time airborne – typically before a face plant (though the chunky board means a recovery more often than not).
Tilting the board into the wind increases power and points better.
James came by as I landed, having been watching from his house. Great to compare notes; he's on his 11th session and is really encouraging. We're both delighted with the accessible sophistication of the MHL Lift N2F foil.